YOUR DESTINATION
KAMILARI
A quiet village in southern Crete
Kamilari is located in southern Crete, very close to Tymbaki, Mires and the seaside villages of Kalamaki and Matala. Kamilari is 4 km from the archaeological site of Phaistos, and is an ideal location for those who want to explore the beautiful Messara Valley with its picturesque villages, rich history and of course the beautiful bays and beaches of southern Crete.
Kamilari is built on top of three hills. It is a peaceful place with panoramic views of the olive groves of the plain of Messara, the peaks of Psiloritis, and the Mediterranean Sea.
The village is very close to the beaches of the region. You will feel the strong traditional nature of its small houses, picturesque alleyways, and unique views. It has all the characteristics of a typical Cretan village, with its small main square, church, and traditional and colourful cafes.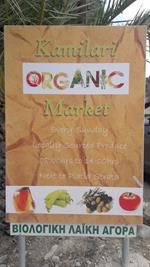 Visit every Sunday from 8h to 14h the Organic Market in Kamilari at the crossroad Kamilari/Kalamaki, with organic farming and local products from the nearby villages. But also small art and craft jewellery are offered here.
Visit the local market in Mires, which takes place every Saturday, is also worth to visit. Farmers from the valley of Messara offer here their local products, all kind of fruits and vegetables.
In recent years, some artists from the mainland and abroad have settled in Kamilari, and art exhibitions are taking place some times.
Close to Kamilari you will find also two nice gorges, the "Martsalo" and "Agiofarago" gorges, belonging to the "to do" list for nature hikers.
THE NAME OF THE VILLAGE, MYTHS & HISTORY
"Kamilaris" means camel driver and is a name that dates from the Byzantine period. Speculation has it that originally, Kamilaris referred to the castle-guard in 1583.
History here goes much further back. In 1959, a vaulted tomb was discovered near the village, dating to the beginning of Minoan-New Palace period.
We have our local myths as well. In the settlement Metochi, located just outside the village of Kamilari, lived Epimenides, one of the seven wise men of ancient Greece. Legend has it that he spent 57 years in a deep sleep.
Our village is well preserved. In the years that Crete was plagued by raids, Kamilari proved to be an ideal location - being situated on a hill protected it from damage.
HOW TO GET TO KAMILARI
Kamilari is around 68 km from Heraklion International Airport (HER). Coming from Heraklion, take first the national road 90 (E75) to Rethymno and from there the national road 97 to Moires. Drive for about 50 km crossing Mires town towards Tymbaki town. About 8 km after Mires (500 m before entering Tymbaki) you'll find a Nissan car station to your right. Turn here left and take the road to Kamilari for another 4,5 km. Just before entering the village turn right to Kalamaki Beach resort, drive 900 meter and at the signs "Orelia Cretan" turn left. On the crest of a small hill you will find the property after 700 meter.
There are many signs with our name "Orelia Cretan" and our logo.
Coordinates: 35.0296571724125,24.774011420086